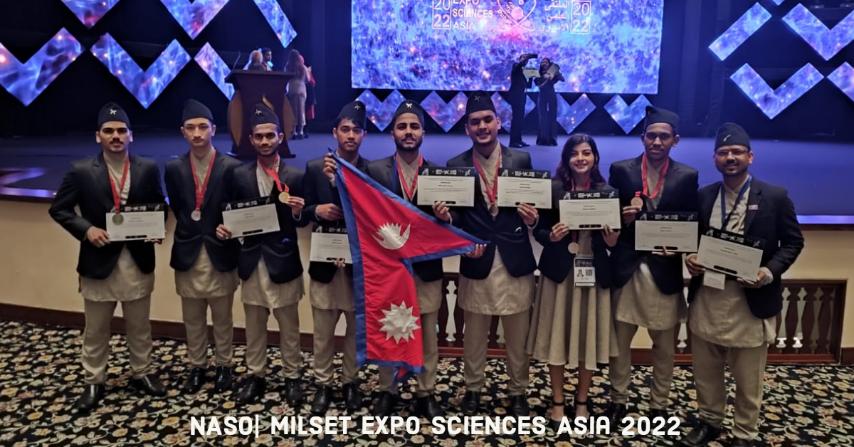 About MILSET:
The International Movement for Leisure Activities in Science and Technology (MILSET) is a non-governmental, non-profit and politically independent organisation. It aims at developing scientific culture among young people through the organisation of science-and-technology programmes, including science fairs, science camps, congresses and other activities of high quality. Its continuous growth has led to the formation of several regional branches to foster stronger development and deeper connection with organisations all around the world.
Nepal Astronomical Society joined MISLET Asia as a member in February 2022 and is now accredited to participate in different programs organised by the MILSET community.
MILSET Expo Sciences:
MILSET has several programs such as Expo Sciences, Young Citizens Conferences, STEAM Photo Contest, Leader Congress, etc. Among which Expo Sciences takes place at regional and international level. The regional MILSET Expo Sciences is hosted by each of the regional offices in ordination and collaboration with one of the countries in that particular region. They are named as MILSET Expo Sciences Asia, MILSET Expo Sciences Europe, MILSET Expo Sciences Africa, MILSET Expo Sciences NORAM, MILSET Expo Sciences AMLAT and MILSET Expo Sciences Vostok respectively. Being a member of the MILSET, Nepal Astronomical Society selects students to participate in any or all of them, provided accreditation is received. MILSET Expo Sciences International takes place every odd year. For example, in 2022, we will have regional expo sciences and we will have Expo Sciences International (ESI) in 2023 in Mexico. There will be no regional expo sciences in the year 2023!
MILSET Expo Sciences has four different age categories which allows students of different levels to work in themes or projects. They are:
The project categories may be different but they will be covering a wide range of Science and Technology related projects. Nepal participated in the Milset Expo Sciences Asia (ESA) 2022 which was held in Dubai, UAE during February 20-26, 2022. MILSET Expo Sciences was co-organised by Emirates Science Club and The Cultural and Scientific Association. There were seven categories:
The categories were:
Basic Sciences (Biology, Chemistry, Mathematical Sciences)
Robotics & Artificial Intelligence
Energy and Transport
Physics & Astronomy
Internet of Things
Cultivation & Biotechnology
Space Science
Nepal participated for the first time at MILSET Expo Sciences Asia with 10 students selected from 6 provinces of Nepal. Selected students worked on three different projects under two different categories, Physics & Astronomy and Space Science respectively.
About the selection process:
The selection process has two different stages namely Expression of Interest (EOI) and interview. During each MILSET Expo Sciences, Nepal Astronomical Society calls for the Expression of Interest (EoI) from the Nepali students interested and eligible for one of the age categories listed above. Then, it will review each of the applications carefully and invite selected students for the interview. If selected through an interview then he or she will be teamed up with other selected participants with matching interests/projects.
What would be submitted in EoI?
1) Cover Letter mentioning the intended category and explaining why you want to participate in MILSET Expo Sciences
2) One Page project idea (if any)
3) Scan of your passport (if available)
Interested and eligible students should not miss the submission deadlines each announcement! If missed, he or she has to wait for another year to apply! So, one should start preparing their application before the deadline! The documents must be submitted to the designated email address with the instruction provided.
Mentorship/Guidance/Projects:
Selected students will be provided mentorship, support and guidance for their projects. The mentorship runs around 4-8 weeks once or twice a week depending on theme and time constraints related to the projects.
During the Expo Sciences:
Selected students must follow the rules and regulations set by Nepal Astronomical Society and consult for any issues with the head of delegation or supervisor/s. As the delegation head will be responsible for any consequences, the selection team will be considering your values participating at the event during the review of EOI and interview. Activities without the consent of the head of delegation or supervisors are not expected during the program as it is a regional/international program to preserve the dignity of the country you are representing at such a forum.
MILSET Expo Sciences in 2022:
Nepal has already participated at MILSET Expo Sciences Asia in February 2022 and is preparing for the MILSET Expo Sciences Europe in July 2022. For MILSET Expo-Sciences Europe will be held in Suceava, Romania on July 24-30, 2022. It will be jointly organised by MILSET Europe, MILSET Romania and Cygnus for the following age categories:
1) 9-12 years
2) 13-15 years
3) 16-19 years
4) 20-25 years
The project categories have not been revealed yet! We will share more once we hear from the organisers!
How to apply for MILSET Expo Sciences Europe from Nepal?
We are now welcoming Expression of Interest(EoI) for MILSET Expo-Sciences Europe 2022 to be held.
What would be submitted in EoI?
1) Cover Letter mentioning the intended category and explaining why you want to participate in MILSET Expo Sciences
2) One Page project idea (if any)
3) Scan of your passport (if available)
Submission deadline: May 15, 2022
You must submit your documents to info@nepalastronomicalsociety.org with subject line: EoI for MILSET Expo Sciences Europe 2022.